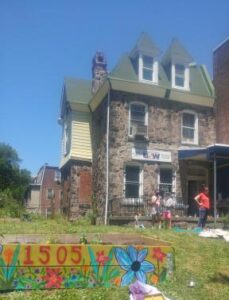 How a Local Union is Trying to Battle Neighborhood Poverty in Philadelphia One Step at a Time…
By Richard Cucarese, Steelworkers Local 4889 Rapid Response Coordinator
Abandoned factories, trash strewn lots, decaying properties, broken sidewalks, unusable streets, failing schools, never present city services, out of control drug epidemics and massive crime waves and murder rates; if you've lived in the City of Philadelphia, you've heard this litany of problems ad nauseam, especially over the past four decades, and the neighborhood of Nicetown-Tioga is unfortunately no exception to this.
Once considered an industrial juggernaut of Philadelphia, Nicetown was at its epoch in the Post-War 1950's and 60's, but the glory days of stable jobs and incomes came to a tragic end when waves of factory closures, enabled by corporations being lured to the South or overseas by cheap, non-union labor occurred, and was culminated by years of racial unrest after the assassination of Martin Luther King in 1968. A true domino effect took place in the once tidy blocks of Nicetown, and what followed would be a nightmarish scenario of more job losses and impoverished conditions throughout the 1970's, gang shootings and the crack epidemic in the 1980's, homelessness, despair, and third-world rates of poverty, environmental illness, illiteracy and starvation from the 1990's until the present day.
According to the Philadelphia Inquirer, the median household income in the area has plummeted from $29,000 to $21,000, the poverty rate is virtually unchanged, hovering at around 35%; moreover, according to The Philadelphia Citizen's, Charles D. Ellison, Philadelphia's food insecurity rate is 22%, over 3% higher than the national average, and Nicetown-Tioga's rate tops out at over the 30% threshold. It's as if the community, as a whole, has been left to fend for itself, and in many ways it has. "There is a level of chaos that comes along with poverty," Philadelphia Councilmember Cindy Bass recently bemoaned to the Philadelphia Inquirer about the dire situations of living in the more forgotten neighborhoods of the city, such as the Nicetown section she represents in North Philadelphia. 
But in the last year and a half, a few blocks down from the Broad Street Line and Temple University Hospital, small signs of hope are taking root in the neighborhood on the corner of North 15th Street and West Allegheny Avenue, as a Community Garden has been planted on the grounds of the Steelworkers Local 4889 Union Hall. Since merging with the Steelworkers Local 404, Steelworkers Local 4889 has tried to make an impact in its new environment by taking into consideration the history of not only the building, but its surrounding neighborhood as well. 
The building and yards had fallen into some severe states of disrepair and neglect over the decades, but under the activist leadership of President Rob Cusick, Rapid Response Coordinator Rich Cucarese, Next Gen Coordinator Chris Harley, and the rest of the Executive Board, Local 4889 has already had an impact by initiating numerous food drives during the holidays and especially, the COVID-19 pandemic, cooking breakfasts for the families, staff and young patients at St. Christopher's Ronald McDonald House, and now a Community Garden. The biggest piece of the puzzle to fall into place was an invitation by Local 4889 to take on a new tenant at the hall, Philadelphia homeless advocates and activists, PPEHRC, also known as the Poor People's Army. 
"I met Cheri briefly during the protests taking place outside of the Democratic Convention taking place in Philadelphia in 2016, and was immediately impressed by the mobilization skills and activist spirit of her group. When our Local moved to the West Allegheny location, one of the first things I did was place a call to her to see if our two groups could work together on helping out people in Nicetown through food drives and other forms of community service. Little did I know, and luckily for us, they were in search of a new home themselves," said 4889's, Cucarese.
The Poor People's Army, under the leadership of the stalwart, Cheri Honkala, was encouraged at the prospect of this new alliance. "A poor people's movement merging forces with union membership should be a no-brainer, but it's extremely rare in modern America, so we're very happy to have forged this relationship with Rich, Rob, Chris and the Steelworkers Local 4889."
What began as a 'what can we do for the community' initial meeting has turned into five successful food drives, the opening of a Food Pantry on the premises, which has been utilized on a non-stop basis during the massive waves of unemployment and shortage of city funding during the COVID-19 pandemic, and now the massive cleanup of the hall's neglected yards and the birth of a small Community Garden. All of these small actions to help eradicate hunger has been noticed and appreciated. "We've been receiving promising support throughout the neighborhood and although there's much work to be done, we're ready to move forward on this and other projects to assist the local community," said Steelworkers 4889 President, Rob Cusick.
"We've been in discussions with Cheri's group about hosting some cookouts during outdoor job fairs or even labor themed movie nights, when the COVID bans are lifted, to make our neighbors know that we're here to help and be a part of the solution," added Chris Harley, 4889's Next Gen Coordinator.
Rapid Response Coordinator, Rich Cucarese agrees. "We're in it for the long haul in Nicetown. Thanks to Cheri, her knowledgeable staff and our Executive Board, we were awarded a grant by the Bread and Roses Community Fund to get the ball rolling on some of our community and economic justice programs, and we are slowly becoming a community center, jobs center and a very important food distribution center. Hopefully, this is the start of something big for our Local, the Poor People's Army, and especially Nicetown and its surrounding, North Philadelphia neighborhoods. Poverty needs to be eradicated and good jobs must return to the area and we're here to help in any way that we can."
Famed Labor radical, anarchist and IWW founder, Lucy Parsons once said, "There is an innate spring of healthy action in every human being who has not been crushed and pinched by poverty and drudgery from before his birth, that impels him onward and upward." Steelworkers Local 4889 is trying to put those words into action, step by step, as a garden grows in Nicetown, and hope springs eternal.
***
Rich's first published novel, 'PUNKS', is being sold online from your favorite, #localindependentbookstore during the COVID-19 shutdowns, or if you prefer, even though it's better to #supportlocalbusiness, 'PUNKS' is on the trillionaires Amazon site in paperback or Kindle.